February 2017
---
If you live in the Philadelphia area, then this event might interest you.
You can find out more information by clicking HERE.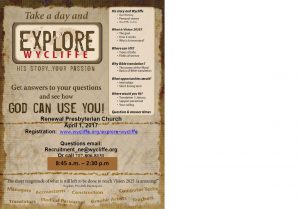 ---
"I can only ask that God give him the same as he's given me.
How can I ask for any less than what God's given me for every other man?
I'm no better than they." ~George Cowan
George Cowan, an important leader in Wycliffe Bible Translators and SIL International, would have turned 101 today, February 15, 2017.
He passed away on February 11, 2017. We celebrate his life and service to the King of kings!
"George joined Wycliffe and SIL in the fall of 1942. He spent many years living and working in Mexico, where he met his wife, Florence. George's many invaluable contributions to Bible translation in Mexico include publishing a description of the now famous whistle speech of the Mazatec people, serving as director of SIL Mexico and helping complete the Mazatec New Testament translation." (This paragraph was copied from a Wylciffe email I received.)
Back in the summer of 2011, when I had my Equip training in Wycliffe's Orlando office, George Cowan came and spoke to us. He shared some of the whistle speech referenced above as well.
The video included above shares his heart for Bible translation growing out of his love for people. That heart is why I serve with Wycliffe Bible Translators. I want to support the work of getting God's Word to people who haven't heard/read it in their heart language, the language they understand best. God's Word is what changes people's hearts and transforms lives!
"And I just hope that no one will ever be able to say, in heaven, that they stopped before they'd come to my language." ~ George Cowan
*If you'd like to read more about George Cowan, please see this post.