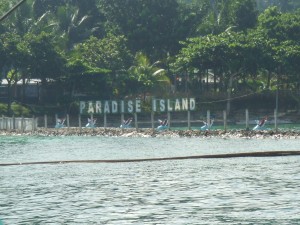 On our first Monday off I was able to go to Paradise Island with a family from school (they also go to my church).  I had never been there before and it was a trip of firsts for me.   I think it took about 30 minutes to drive to the dock from where we left.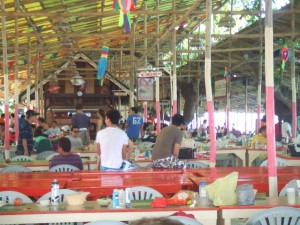 You can sit at these tables, order your lunch from the restaurant, and you are a short distance from the water.  We actually moved to a table right on the beach once the tide went out.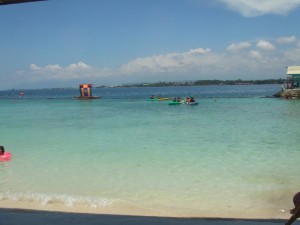 There is a small coral reef out by that boat.  I went snorkeling for  the first time while we were there!  I had to adjust to it being ok to still breathe normally even though my face was under water.  Once I did that I was having a wonderful time.  I got to touch a sea anemone and see all sorts of fish up close.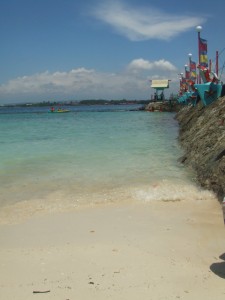 Isn't the ocean beautiful?  I'm thankful God has made things that we are able to enjoy.
I ordered Halo Halo (mix-mix) shortly before we left.  It was my first experience having this snack here in the Philippines.  I did enjoy it.  (Please see the Fun with Food post for more details.)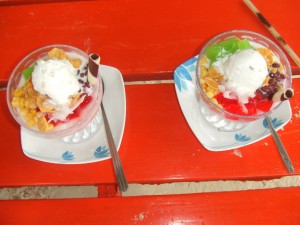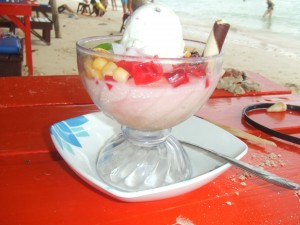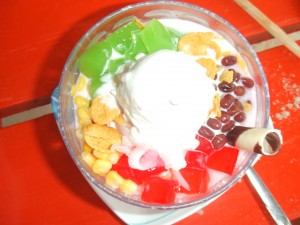 I am thankful not only for the beautiful creation but for the friends God has provided here in the Philippines.  It was fun to spend time with a family at the beach.
One response to "Paradise Island"