I finally took pictures of our Christmas decorations (and my keyboard).  Some of the decorations and tree ornaments are mine and some are Ruth's.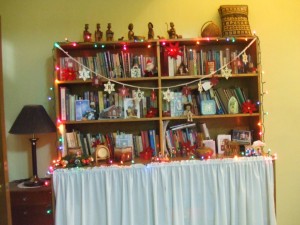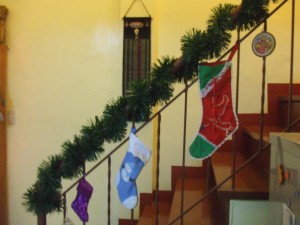 This is my first Christmas away from my family.  God is good in providing understanding friends here.  This is a more difficult time than I had at Thanksgiving; however, God is faithful.  I try to remind myself of this and the many blessings He has provided here when I am sad about not being home for Christmas.
One thing that struck me today as being different than Christmas in the States is that they don't have Christmas Eve services at the Protestant churches here.  I'm spending dinner and part of the evening with friends (and will play some Christmas songs for them) but it will be different.  They do decorate with lights and have been playing Christmas music in the malls and grocery since the -ber months started though (SeptemBER, OctoBER, NovemBER, and DecemBER). 🙂
I hope you have a wonderful time with family and friends and take some time to focus on the most precious gift we could ever be given – the gift of salvation through Jesus, the Messiah.