Seeing little lizards around the house is normal here in the Philippines.
(I'm not sure if they're actually lizards or geckos or …, but I usually call them lizards.)
They scurry around on the wall, sometimes they fall out of the cupboard or climb out of a drawer when you open it, and sometimes they're in your trash can. I remember back when I'd only been here for a couple months. I went down to the kitchen in the dark…and the trash can made noise. Our trash can is near a back window. I quickly figured out that it was just a little lizard in the trash.
Here's a larger one that's been hanging around our kitchen lately. (He's probably 3/4 the length of my hand.) I caught him in the trash can the other night.
That same night I went up to my room and there was a little, tiny one on the floor. I took some pictures of it near my backpack as well. In this first picture you can hopefully see just how small he is. He's to the right of the backpack strap.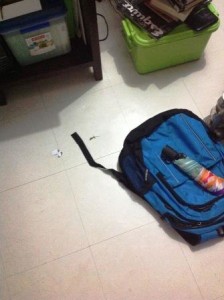 I do think these little guys are cute…unless they fall on me. 🙂
I have some interesting lizard stories from school – one about my projector screen and one about my air con (air conditioning unit). Ask me about these when I'm home on furlough. 🙂