We just returned from a few days away at Eden Nature Park and Resort for our FIA staff retreat. Eden is one of my favorite places to go here in Davao, for two reasons: 1) it's beautiful, and 2) it's cooler since it's up on a mountain.
We had a Sunday morning devotional time at the amphitheater, and I enjoyed the opportunity to worship the Lord in His creation.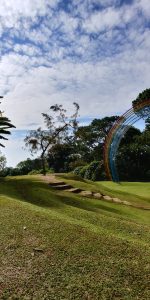 Thank you for praying for us as we start the school year this Wednesday, August 2.